Discover more from It's Meseidy
A space where I can share my unhealthy obsession with news, politics, and culture. I doom scroll, so you don't have to. Do not enter if you can't handle sarcasm and bluntness.
Over 3,000 subscribers
Weekly News Bites #002 | Sinema says bye to Dems, a drag queen hangs at the White House, and we can grow babies soon.
Nibbles of news while you nibble on your toast
Hey Friends!
This week was a weird week, personally and on Twitter. Which weirdly is news. The release of five Twitter file threads, SBF updates, and multiple lefty journo accounts getting suspended have kept things busy.
I share live-in-the-moment coverage for those stories and others in my stories on Instagram. If you want to keep up to date with any of these stories, I highly recommend you follow me on IG.
Funny thing, this newsletter is late because I have been covering the lefty journos spanking on IG stories today while writing this newsletter. You can also find past coverage in my highlights.
Ok, that is enough. Time for some news bites!
The GOP says it's time for a probe. (Yes, there is a joke, but we are all adults.) The Twitter files have revealed a coordinated effort between Twitter and the federal government to censor conservative accounts. The Left has argued for some time that Twitter is a private company and, therefore, can censor as they wish. The Left also says the Twitter files have only revealed the challenge of content moderation. The Right says that Twitter was essentially a government actor making the censorship of Trump and conservatives unconstitutional and criminal.
You can get up to date on the Twitter files on my Instagram highlights.
Biden signs bill codifying same-sex marriage protections into law. The White House celebrated with a signing ceremony attended by Washington elites, activist musicians, and drag queens. The Left and some from the Right say the law is necessary in case SCOTUS overturns Obergefell. Others from the right say the law falls short of religious liberty protections.
During Biden's speech at the ceremony, he also pushed for Congress to pass the Equality Act, claiming that gay people are being married and thrown out of restaurants on the same day. Which has not happened.
"When a person can be married in the morning and thrown out of a restaurant for being gay in the afternoon, this is still wrong. Wrong," Biden said. "And that's why the people you heard speak today continue to fight to pass the Equality Act. When hospitals, libraries, and community centers are threatened and intimidated because they support LGBTQ children and families, we have to speak out. We must stop the hate and violence."
Arizona Dem Senator Kyrsten Sinema announces leaving the Democratic party and registering as an Independent. The Left is not happy. Democrats accuse her of betraying the party and catering to corporate elites. The GOP praises Sinema for her help in stopping additional massive spending passages from Congress.
The Democrat majority stays intact because the Democrats have 50 seats, plus VP Harris serves as the tie-breaking vote. Sinema has voted with Republicans in the past and brought Democrats more to the center, but she is no conservative and will not be joining the GOP.
The Senate passes a bill banning TikTok on all government devices. A bipartisan effort has been made to limit the Chinese social media platform as a national security threat. There has been growing research that the Chinese government uses TikTok for surveillance.
California goes soft on pedophiles. California is releasing some convicted pedophiles after just a few months in prison. According to a report from the Daily Wire, California appears to have released more than 7,000 individuals convicted of "lewd or lascivious acts with a child under 14 years of age," the same calendar year they were imprisoned.
Including criminals with disturbing criminal histories.
365 of these individuals were convicted of continuous sexual abuse of a child;

39 involved cases of sodomy with a child under 16;

3 involved cases of kidnapping a child under 14 "with intent to commit lewd or lascivious acts.
The nationwide average sentence for a sex crime against a child is 5-15 years in prison. Some states, like Florida, require a minimum 25-year prison sentence for sex crimes involving children younger than 12, California doesn't enforce a minimum sentence for the same crimes.
Update on the Loudoun Country schools rape cases. Two Loudoun County school officials were indicted by a grand jury following the Daily Wire's expose of a rape coverup.
The special grand jury was convened by Republican Gov. Glenn Youngkin, who won the election in November 2021, a month after the rapist sexually assaulted a second girl in a classroom in another school.
Sam goes from a Bahama penthouse to a Bahamian jail. What does this mean? Sam Bankman-Fried (SBF), the founder of the Ponzi scheme FTX and Alemeda Research, was arrested and walked out in cuffs of his Bahamas home after U.S. Attorney General filed charges.
The New York Times reported that Bankman-Fried is facing charges of wire fraud, wire fraud conspiracy, securities fraud, securities fraud conspiracy, and money laundering.
SBF led FTX to bankruptcy after letting his investment fund, Alameda, use unlimited funds from FTX investors, defrauding users of a total of $51 billion.
California's committee to study reparations for African Americans met in Oakland on Wednesday to discuss what form reparations could take and the eligibility requirements to receive possible payments. The first-in-the-nation task force previously voted to limit reparations to Black California residents whose ancestors were living in the United States in the 19th century.
The American Girl brand, known for its popular line of historical dolls, is promoting gender ideology with a new book about puberty that encourages girls to question their gender and includes advice on how to access puberty-blocking hormones.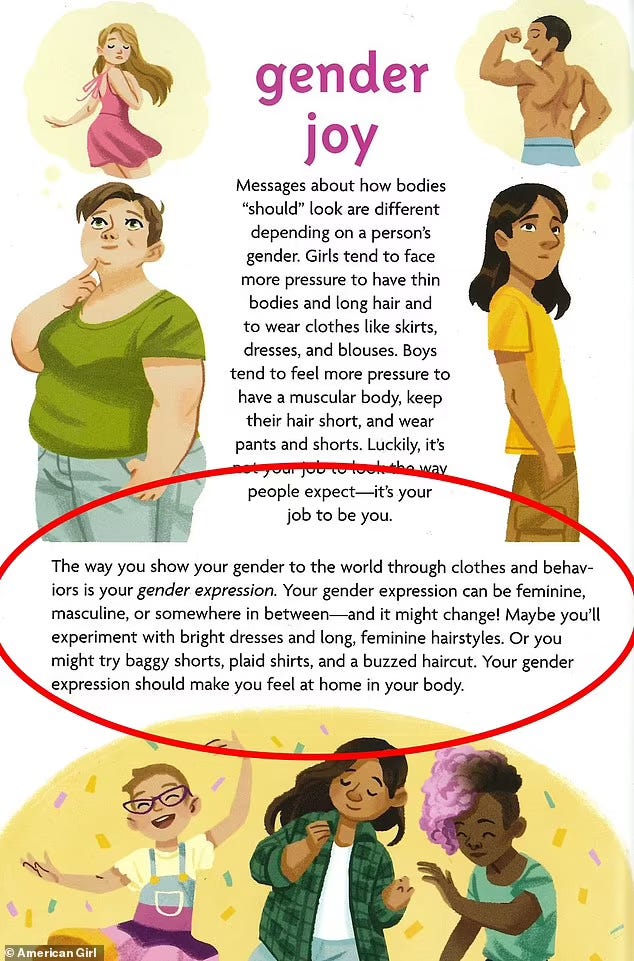 A Smart Girl's Guide: Body Image advises girls as young as three years old how to change their gender by asking doctors for puberty blockers. A passage in the book advises, "If you haven't gone through puberty yet, the doctor might offer medicine to delay your body's changes." It also provides a list of resources for organizations the children can turn to "if you don't have an adult you trust."
Navy SEAL Chris Beck, who became famous nearly 10 years ago after coming out as transgender, announced he is detransitioning and called on Americans to "wake up" about how transgender health services are hurting children. 
JK Rowling was accused of transphobia for opening a rape crisis service for women. Rowling announced that she'd be funding a female-only service for survivors of sexual violence to provide free support and advocacy for women in Edinburgh who have experienced abuse at any time. Rape Crisis Scotland said support should also be available to trans and non-binary people. Activists accused her of hate, with one likening the service to a whites-only orphanage and another calling the move vindictive.
The White House invited a drag performer to a Tuesday celebration of the signing of same-sex marriage legislation that recently passed Congress with Republican support. Marti Cummings, a New York City–based "drag artist" as well as a television personality, political figure, and former city-council candidate, touted the White House invite to the signing ceremony sharing his gratitude to President Biden for asking him to attend the ceremony.
One viral video from 2019 shows Cummings in full drag sitting cross-legged on a bar, singing "Baby Shark" to a 2-year-old child.
"Anyone who thinks drag isn't for children is wrong," Cummings tweeted afterward, addressing the wide reach the video had. "Drag is expression, and children are such judgment-free beings; they don't really care what you're wearing, just what you're performing."
Joseph Bruno, Dean of Students, Francis W. Parker School, brags about bringing in an LGBTQ+ health center to teach "Queer Sex" to minors with aids. Project Veritas released a new video today exposing a high-ranking private school official, Joseph Bruno, who admitted that he teaches underage children about sex with items such as "butt plugs" and "dildos."
It's Meseidy is a reader-supported publication. To receive new posts and support my work, consider becoming a free or paid subscriber.
The monthly federal deficit widened to a record $249 billion in November, $57 billion wider than last year's, as Republican control of the House puts the government's finances back in the political spotlight. The GOP blames the Dems for the deficit spending and record-high inflation. Dems say the spending was necessary to help Americans get through Covid and the energy crisis.
The Federal Reserve reinforced its inflation fight Wednesday by raising its key interest rate this year for the seventh time and signaling more hikes. Though the rate increase was less than the previous 0.75% increases, the Fed signals that it will raise rates above 5% next year, which is higher than expected.
A new bank combats ideological discrimination in the finance industry. Amid heightened concerns over governments and banking institutions freezing citizens' assets for political or ideological reasons, some entrepreneurs are taking steps to build alternatives – including launching entirely new banks such as Old Glory Bank.
DeSantis seeks grand jury investigation of COVID-19 vaccines. Florida Gov. Ron DeSantis said Tuesday that he plans to petition the state's Supreme Court to convene a grand jury to investigate "any and all wrongdoing" concerning the COVID-19 vaccines. Desantis grand jury to investigate vaccine manufactures
The governor's office announced "aggressive action" Tuesday after DeSantis held a roundtable discussion with physicians, researchers, and victims "of adverse events from mRNA vaccines." 
Los Angeles county revives indoor mask recommendations after the CDC issues its new mask guidance with rising Covid, RSV, and flu cases. New York recommends all schools require masks while indoors.
Duke rejects the child's kidney transplant over-vaccination status. According to one family, Duke University's children's hospital is denying 14-year-old Yulia Hicks a kidney transplant because she has not received a COVID vaccine. The hospital says the vaccine is required to be a transplant candidate.
The good news for Yulia Hicks is that a GiveSendGo crowdfunding effort is raising a significant portion of the funds needed for her kidney transplant. While the original donation goal was $25,000, it now stands at over $69,000 of the $250,000 goal.
The exaggeration of long COVID. John Hopkins Medical School Professor Dr. Marty Makary, who also serves as a health advisor for Virginia Governor Glenn Youngkin, is warning "long COVID" is being exaggerated to extort American taxpayers for more money. 
The CDC used a backchannel with Twitter to control the COVID-19 narrative. Twitter officials used the portal to track online posts for review and invited Centers for Disease Control and Prevention (CDC) officials to enroll, according to documents AFL obtained through its litigation against the CDC.
An Australian e-safety regulator, after using new powers to make the tech giants share information about their methods, accused Apple Inc and Microsoft Corp of not doing enough to stop child exploitation content on their platforms. The regulator says Apple and Microsoft did not proactively screen for child abuse material in their storage services, iCloud and OneDrive, as well as screening for sexual abuse used on Skype and Microsoft Teams, which Microsoft owns, and FaceTime, which Apple owns.
The United States is finalizing plans to send the Patriot missile defense system to Ukraine, the most sophisticated weapon Washington would give Ukraine thus far, a decision that could be announced as soon as this week.
The Pentagon's proposal is still awaiting the green light from Defense Secretary Lloyd Austin, after which it will go to President Biden's desk for final approval. Two U.S. officials and a senior administration official told CNN that they anticipate the plans will be rubber-stamped without issue.
Peru declares a nationwide state of emergency, granting police more power to squash protests and suspending the freedom of assembly. The announcement comes amid deadly riots and clashes between pro-Castillo protesters, who support the ousted president, anti-Castillo protesters, and the police.
A Peruvian judge on Thursday ordered ousted President Pedro Castillo to remain in custody for 18 months, approving a request from authorities for time to build their rebellion case against him.
Cambridge dictionary redefines 'Woman,' 'Man.' Woke definition of 'Woman' as an identity puts women and girls at risk, Libby Emmons tells Posobiec
Vice releases a mini-doc of pure propaganda. The latest mini-doc from Vice is a piece of work. Waring of the rise of the far-right female influencer, there is no definition for what qualifies as far-right. They clip from an "influencer" that has about 10k subs and hasn't posted for over a year and provides clips out of context. Bret Cooper from the Daily Wire does a great breakdown.
A concept video of the world's first artificial womb facility has been released. The baby grows in an idealized but completely inhuman environment. Transparent "growth pods" arranged by their hundreds in human baby farming operations. Real-time data on your little Tamagotchi will pop up through a phone app and a live HD fetus cam. All I have to say is no. Just no. All the nos.
Later!