Discover more from It's Meseidy
A space where I can share my unhealthy obsession with news, politics, and culture. I doom scroll, so you don't have to. Do not enter if you can't handle sarcasm and bluntness.
Over 3,000 subscribers
#041 | Weekly Brief: Scrutiny on CNN & NYT, Biden Family, and a Groundbreaking SCOTUS Case
All of the top stories 📰 of the week to keep you in the know
It's FRIDAY, November 10! YAY
This week's stories:
CNN, NYT, Others Face Scrutiny Over Use of Hamas-Linked Photographers

Biden Family Under Scrutiny: Congressional Subpoenas Issued Amid Corruption Allegations

Leaked Draft Letter Reveals Democratic Plan to Extend Relief for Palestinians on U.S. Soil

Crowder Unveils Alleged Nashville Shooter Manifesto: A Chilling Insight

Rashida Tlaib Defiant as House Votes to Censure Over Israel Comments

Rahimi Case Tests Constitutional Boundaries of Gun Control and Domestic Violence

---
A quick note: I hope you enjoy this article and find it helpful because I'm on a mission to bring critical, truth-focused content to everyone, which is why most of my work is free. But this is a one-woman operation, and quality journalism takes time and effort.
If you value this endeavor, consider becoming a paid subscriber. Your support will help keep the majority of these articles free and accessible.
CNN, NYT, Others Face Scrutiny Over Use of Hamas-Linked Photographers
In the wake of the October 7th attacks in Israel, a report from HonestReporting brought to light serious allegations concerning major news agencies like the Associated Press, Reuters, CNN, and The New York Times. They reportedly employed Gaza-based photojournalists who were embedded with Hamas during the attacks​​​​.
HonestReporting accused these photojournalists of not only documenting the atrocities but also being physically present with Hamas terrorists during their rampage across southern Israel. This presence raises grave ethical questions about their knowledge of the planned attacks and their journalistic integrity. The report identified several freelance photographers by name, including Hassan Eslaiah, Yousef Masoud, Ali Mahmud, and Hatem Ali, their early presence at the sites of violence suggests coordination with Hamas.
The role of photojournalists embedded with Hamas has sparked controversy, and the images of Hassan Eslaiah have played a significant part in showing how deeply he is involved.
A video found on Eslaiah's Facebook shows him standing in front of a burning Israeli tank, supposedly taken after he entered Israel with Eslaiah riding on the back of a motorcycle, holding his camera tightly. Meanwhile, another person is seen carrying what seems to be a grenade. This scene brings up concerns about Eslaiah's objectivity and adherence to safety procedures in a war zone.
There are strong suspicions about Eslaiah's connection to Hamas, and this is backed by a widely shared photo of him receiving a friendly kiss on the cheek from Yahya Sinwar, a prominent leader of Hamas. This image has become symbolic of the controversy, implying a relationship that surpasses professional boundaries and enters the realm of personal rapport with members of a recognized terrorist organization. The visual proof of Eslaiah's closeness to influential Hamas individuals has sparked discussions about the ethical obligations of journalists in conflict areas and the possibility of terrorist groups manipulating the media.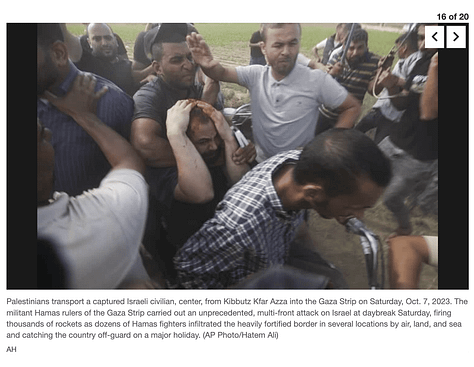 CNN severed ties with photographer Hassan Eslaiah for being pictured with Hamas leader Yahya Sinwar. The New York Times denied having prior knowledge of the attacks or journalists accompanying Hamas terrorists. They called the allegations "untrue and outrageous" and expressed concern for the safety of their journalists. The Times defended the work of freelancer Yousef Masoud, stating that he documented unfolding events, which is the core role of conflict zone photojournalists.
Reuters clarified that on October 7, they received pictures from photographers they hadn't previously worked with, including Mohammed Fayq Abu Mostafa. The allegations suggested that these journalists were present at the border during the infiltration, possibly being informed beforehand.
Various news agencies have responded differently, with some completely dismissing the allegations and others taking decisive action by severing ties with the implicated individuals. The main theme in these responses, particularly from The New York Times, is the defense of journalistic integrity and the crucial role journalists play in documenting conflicts. They emphasize the importance of safety and highlight the consequences of baseless accusations.
This story takes place in a context of already heightened tensions and scrutiny surrounding media coverage in conflict zones. It raises significant questions about journalistic ethics, journalist safety, and the influence of militant groups on war reporting.
The implications of these photographers being embedded with Hamas are significant. It suggests not only a potential pre-existing relationship with the terrorist group but also raises concerns about the media's role in conflict zones. Do they act solely as observers, or do they become active participants in the narratives they are expected to document impartially?
This incident also touches on a broader issue related to Hamas' use of propaganda. The fact that these journalists were in a position to capture such images indicates a deliberate strategy by Hamas to document and spread their actions, using the international media to amplify their message.
This incident represents a breach of journalistic standards, blurring the line between reporting and participating. It serves as a stark reminder of the challenges faced in conflict journalism, where access and information are often manipulated by the very subjects of the reporting. The actions taken by the news agencies following these revelations will demonstrate their commitment to journalistic ethics and their position on impartial reporting in conflict zones.
It's Meseidy is a reader-supported publication. To receive new posts and support my work, consider becoming a free or paid subscriber.
---
News of the Week
Biden Family Under Scrutiny: Congressional Subpoenas Issued Amid Corruption Allegations
In a significant move, the House Oversight Committee has issued subpoenas to key members of President Joe Biden's family, including his son Hunter Biden, brother James Biden, and a business associate, Rob Walker, as part of an expanding impeachment inquiry that House Republicans assert is aimed at uncovering corruption that might extend to the White House itself.
The Oversight Committee, led by Chairman James Comer (R-KY), has been following financial trails and claims to have found evidence suggesting that the Biden family was engaged in "influence peddling schemes," allegedly using the senior Biden's political influence for personal profit. This is fueled by the examination of "suspicious money transfers" from foreign entities through a web of business and personal bank accounts.
The White House, however, staunchly refutes these allegations. Press Secretary Karine Jean-Pierre dismissed the investigation as a smear campaign.
"This is an investigation that has been going on for a year now and has turned up zero evidence of wrongdoing by the president because there is none," Jean-Pierre said. "Republicans continue to double down on a baseless, baseless smear campaign against the president and his family instead of being focused on the American people's needs."
The subpoenaed individuals are expected to provide depositions ranging from the end of November to mid-December. The committee has also signaled its intent to issue additional subpoenas and requests for transcribed interviews with other Biden family members and associates.
Hunter Biden's lawyer, Abbe Lowell, criticized the subpoena as a political move, but acknowledged Hunter Biden's willingness to discuss these matters publicly. This investigation has also raised questions about a $200,000 payment made by James Biden to President Biden, which was labeled as a "loan repayment" and coincided with a similar amount received from a healthcare business. The White House refused to provide evidence of this loan from President Biden to his brother.
These developments have occurred against a backdrop of political tensions and previous financial investigations into the Bidens. The impeachment inquiry, publicly backed by former President Donald Trump, has become a focal point of contention as the 2024 election approaches, with Trump likely to challenge Biden.
The Biden family has faced scrutiny regarding their business dealings, particularly Hunter Biden, despite never holding a position in the White House or his father's campaign. He has been accused of attempting to sell access to his father. These allegations are part of the broader impeachment inquiry pursued vigorously by the Republican-led House.
As the investigation progresses, it remains uncertain whether the slim Republican majority in the full House will proceed with impeaching President Biden. However, Speaker Mike Johnson has expressed support for the ongoing probe.
Leaked Draft Letter Reveals Democratic Plan to Extend Relief for Palestinians on U.S. Soil
The latest news from Capitol Hill suggests that Democratic lawmakers aim to create a secure place for Palestinians who are currently in the United States during the unrest in the Middle East. A leaked draft letter to President Joe Biden, from individuals who seem to consider national borders as trivial, indicates a push for extending support and residency for Palestinians who are currently in the country on temporary visas. Senator Dick Durbin and over 100 other Democratic colleagues are leading this initiative, which seeks to offer deportation relief and work opportunities to Palestinians, utilizing programs that are specifically designed for people from conflict-ridden or highly challenging regions.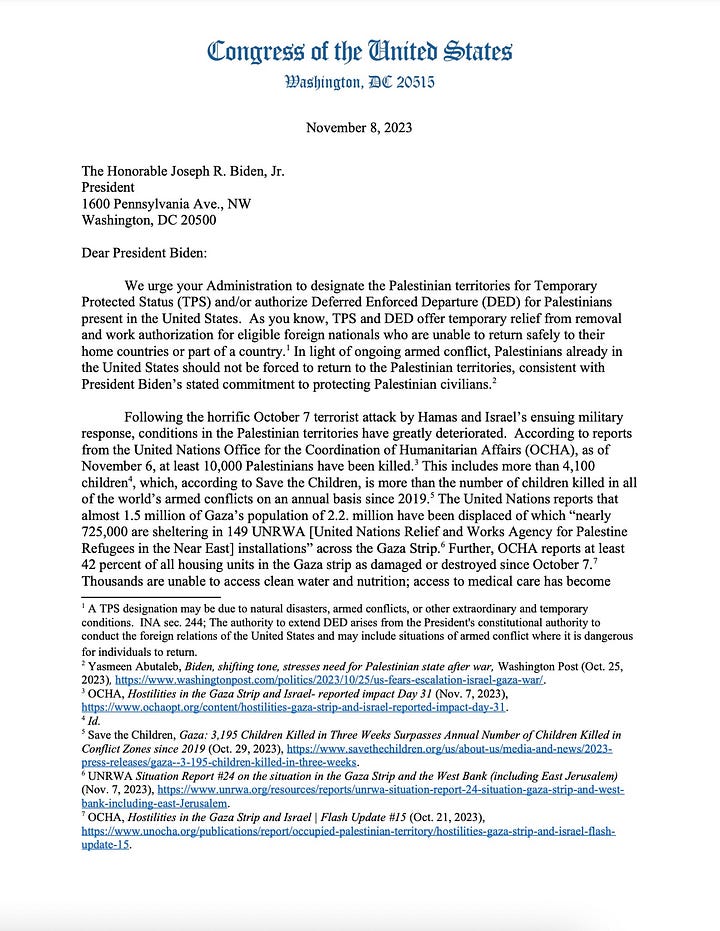 This Democratic proposal comes at a time when there is conflict and violence in the Gaza Strip and the West Bank. It has led to the suggestion of using Temporary Protected Status (TPS) or Deferred Enforced Departure (DED) programs. If President Biden listens to this suggestion, it could affect around 7,241 Palestinians who are currently in the U.S. with travel documents from the Palestinian Authority. It's important to highlight that this request does not include Palestinians in conflict zones or those in other countries as refugees. Instead, it focuses on Palestinians who are already in the U.S., aligning with Biden's previous commitment to protect Palestinian civilians.
In contrast, the Republican side has taken a stricter position. Some Republican presidential hopefuls, including former President Donald Trump, have supported more stringent immigration restrictions for individuals coming from Gaza. Republican Representative Ryan Zinke, along with 10 other Republicans, introduced a bill to remove Palestinians from the U.S. due to security concerns and to deny entry to those with passports from the Palestinian Authority—a body that emerged from the peace negotiations of the Oslo Accords three decades ago. This bill has encountered strong opposition from certain Democrats and civil rights advocates. Democratic Representative Bill Pascrell has condemned it as "absolutely despicable."
This issue presents a clash of worldviews. Democrats frame the proposal as a humanitarian necessity, while Republicans perceive it as a matter of national security. The outcome of this political struggle will have real-life consequences for thousands of individuals caught between geopolitical conflicts and their aspirations for a stable future.
Crowder Unveils Alleged Nashville Shooter Manifesto: A Chilling Insight
In an investigative turn that has sent ripples through the community of Nashville, Steven Crowder of 'Louder with Crowder' brought to light three pages of what is alleged to be the manifesto of the Nashville shooter, Audrey Hale. The contents are as harrowing as they are revealing, painting a disturbing portrait of the shooter's intentions and biases, targeting specific children with what the shooter perceived as "white privileges​."
Kill those kids!!! Those crackers going to private fancy schools with those fancy khakis and sports backpacks, with their daddy's mustangs and convertibles. F*** you little s***s. I wish to shoot you weak*** d***s with your mop yellow hair, wanna kill all you little crackers!!! Bunch of little fa**ots with your white privileges. F*** you fa**ots."" 

Today is the day, the day has finally come! I can't believe it's here. Don't know how I was able to get this far, but here I am. I'm a little nervous but excited too. Been excited for the past 2 weeks. There were several times I could have been caught, especially back in the summer of 2021. None of that matters now. I'm almost an hour and seven minutes away. Can't believe I'm doing this, but I'm ready… I hope my victims aren't. My only fear is if anything goes wrong, I'll do my best to prevent any of the sort (God let my wrath take over my anxiety). It might be 10 minutes tops. It might be 3-7. It's gunna go quick. I hope I have a high death count.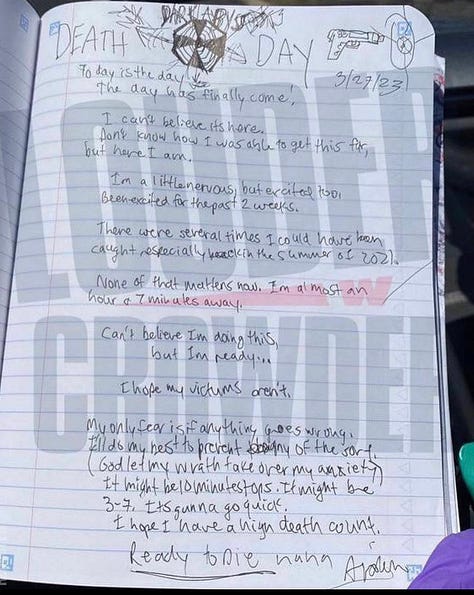 The aftermath of this leak has been swift and significant. The Nashville Police Department, led by Chief John Drake, has found itself in the middle of a serious situation, suspending seven detectives connected to the unauthorized sharing of the manifesto. Chief Drake emphasized the department's commitment to thoroughly investigating the breach.
Steven Crowder has openly defended the public's right to know, drawing similarities to previous releases of mass shooter manifestos and emphasizing the importance of transparency in these critical cases.
The discourse surrounding the leak of the manifesto is both divided and passionate. Crowder's tweet suggests that the authorities are more focused on the act of leaking rather than the content of the manifesto itself, revealing the shooter's antagonism towards a particular group.
As the city grapples with the consequences of this incident, questions about privacy, public safety, and the right to information fuel a heated debate. This incident not only exposes the shooter's motives but also triggers discussions about how law enforcement agencies handle sensitive information.
Although the Nashville police statement is not currently accessible, it likely discusses the procedures and justifications for suspending the officers involved. It would address the balance between maintaining investigative integrity and the public's concern for safety and understanding in such tragic events.
When reporting on this matter, it's crucial to critically assess the facts, considering the public's right to information alongside the potential risks and consequences of leaks. The ongoing investigation by the Nashville police aims to uncover the source of the leak and establish precedents for handling sensitive information in the digital age, where information holds significant power.
While we wait for further updates, the discussions continue in Nashville and beyond, as the community seeks answers and closure after a tragedy that has deeply impacted the heart of the city.
Related
Rashida Tlaib Defiant as House Votes to Censure Over Israel Comments
This week, U.S. Representative Rashida Tlaib found herself facing censure due to remarks that have been condemned as anti-Israel and potentially anti-Semitic. Tlaib's behavior, consisting of controversial incidents and statements, has sparked intense debate and division within Congress and across the nation.
The censure stemmed from Tlaib's sharing of a video featuring the phrase "from the river to the sea," which she claimed was a call for freedom and peaceful coexistence but has often been interpreted as a call for the eradication of Israel, associated with the rhetoric of the Hamas militant group.
Following a devastating Hamas attack on Israel resulting in the deaths of 1,400 Israelis and 240 kidnappings, Tlaib's comments, labeling the situation as an "apartheid system," were met with a two-page resolution for her censure. The resolution cited her history of contentious remarks about Israel and condemned the coordinated attacks by Hamas, emphasizing the rejection of all forms of anti-Semitism.
Leading the efforts, Republicans expressed the necessity of holding Tlaib accountable for her longstanding anti-Semitic and racist rhetoric towards Israel. Representative Jack Bergman, along with his Republican colleagues, stressed the need for zero tolerance for such abhorrent anti-Semitism within the United States and especially within Congress.
The censure vote in the House, garnering support from 22 Democrats, demonstrated a rare bipartisan consensus, albeit with a notable majority of Republican backing. The final count of 234-188 in favor of censure highlighted the deep divide along party lines concerning Israel-Palestine relations.
However, Tlaib remained firm and denied allegations of anti-Semitism. She emphasized that her criticism was aimed at the actions of the Israeli government, not the Jewish people or their faith. Tlaib expressed her viewpoint during her speech in Congress, defending the value of diverse perspectives within the legislative body.
Despite facing formal criticism, Tlaib continues to challenge the negative portrayal of herself. She accuses her colleagues of disregarding the hardships faced by Palestinians and distorting her stances. Tlaib asserts that she has condemned the loss of civilian lives caused by both Hamas and the Israeli government, expressing sorrow for the casualties on both sides.
Although this reprimand does not carry specific penalties, it serves as a symbolic gesture highlighting the divisive nature of discussions relating to Israel and Palestine in American politics. The action taken against Tlaib reflects the wider tensions at play and is likely to influence future discussions on this matter, both within Congress and in the broader public arena.
Rahimi Case Tests Constitutional Boundaries of Gun Control and Domestic Violence
As the Supreme Court of the United States (SCOTUS) discusses a crucial Second Amendment case, the whole country is focused on how it will impact gun ownership rights, especially for individuals under domestic violence restraining orders. The case of Zackey Rahimi lies at the center of this discussion. Rahimi, a man from Texas with a violent history and involvement in multiple shootings, has ignited a complex legal debate.
The Fifth Circuit's recognition of Rahimi as "far from being a model citizen" has further fuelled the debate. Despite Rahimi's involvement in five shootings within two months, the court pointed out that the restraining order against him was civil and not criminal. Based on this distinction, the Fifth Circuit concluded that Rahimi still has the right to Second Amendment protections. This point of contention now holds significant implications for the nation's gun laws, which SCOTUS is currently examining with great interest.
Rahimi's conviction, which was overturned by the 5th Circuit, stems from several criminal activities including assault, threats of violence against his girlfriend, and participation in multiple shootings over a two-month period. These incidents include firing an AR-15 into a residence and threatening another woman with a gun. Eventually, he was arrested when firearms were found in his home, violating the federal law that forbids individuals with domestic violence restraining orders from possessing guns.
The case, known as United States v. Rahimi, is based on a federal statute from 1994 that criminalizes gun possession for individuals subject to civil domestic violence orders. Previously, the U.S. Court of Appeals for the 5th Circuit nullified Rahimi's conviction under this law, arguing that it violated the new standard established in the 2022 ruling of New York Rifle & Pistol Assn. v. Bruen. This standard assesses the constitutionality of gun control laws in light of the nation's "historical tradition of firearm regulation".
During the Supreme Court proceedings, the justices grappled with the definition of "law-abiding and responsible" gun ownership and how to identify a "dangerous person". The administration's stance, presented by Solicitor General Elizabeth Prelogar, stresses the historical precedent of disarming individuals who endanger society, including domestic abusers.
Interestingly, despite their majority, some conservative justices took a cautious approach. Chief Justice John Roberts and Justice Amy Coney Barrett questioned the meaning of terms like "responsible" and "dangerousness," suggesting a possible inclination to support the law by applying a standard that could disarm those considered dangerous.
Justice Elena Kagan, a liberal, emphasized the wider impact of the court's decision, expressing concern that ruling in favor of Rahimi could invalidate various gun restrictions and potentially compromise public safety. This point aligns with advocacy groups who argue that the presence of firearms in domestic violence situations significantly raises the chances of a fatal outcome.
On the other hand, some pro-gun groups argue that the 1994 law lacks historical precedent and violates the Second Amendment. They claim that, irrespective of Rahimi's questionable character and actions, the federal prohibition on gun ownership for Americans under domestic violence restraining orders goes against the Constitution.
This Supreme Court case is a critical moment for Second Amendment interpretation, weighing individual rights against societal safety. The outcome will likely set a precedent for regulating gun rights, particularly in cases involving individuals deemed dangerous due to their behavior or legal limitations. Given the diverse opinions among the justices, the legal community and the nation eagerly anticipate the decision, which is expected to shape the landscape of gun ownership and control in America by the end of June.