Discover more from It's Meseidy
A space where I can share my unhealthy obsession with news, politics, and culture. I doom scroll, so you don't have to. Do not enter if you can't handle sarcasm and bluntness.
Over 3,000 subscribers
#040 | University Anti-Semitism, Biden Checks, Trump Trials...There is a lot going on
All of the top stories 📰 of the week to keep you in the know
A quick note: I hope you enjoy this article and find it helpful because I'm on a mission to bring critical, truth-focused content to everyone, which is why most of my work is free. But this is a one-woman operation, and quality journalism takes time and effort.
If you value this endeavor, consider becoming a paid subscriber. Your support will help keep the majority of these articles free and accessible.
It's FRIDAY, November 3! YAY
This week's stories:
The Alarmingly Sharp Rise of Anti-Semitic Incidents Post Israel-Hamas War

From Hamas to the Border: A Senate Reckoning on Security

The Biden Family Checks: A Catalyst for Impeachment Deliberations?

Veto on the Horizon? Biden, Senate, and House Lock Horns Over Funding Packages

From Fraud to Ballot Fights: Trump's Legal Sagas Continue

An Update on the Israel-Hamas Conflict
---
The Alarmingly Sharp Rise of Anti-Semitic Incidents Post Israel-Hamas War
The recent surge in anti-Semitic happenings across the United States, particularly following the start of the Israel-Hamas war, unveils a chilling narrative of hatred and intolerance. An advocacy group's data exposes a staggering 388% uptick in anti-Semitic incidents between October 7 and October 23, in comparison to the prior year. The Anti-Defamation League (ADL) has chronicled a sum of 193 incidents identified as anti-Semitic in the wake of the October 7 assault on Israel by Hamas, exhibiting an increase of over 20% from the comparable period last year. Post-October 7, the ADL has reported a nearly 400% escalation in overall anti-Semitic incidents across the U.S.

Surge in Anti-Semitic Incidents
The anti-Semitism has traversed beyond the streets, seen in the tearing down of Israeli kidnapped posters and in pro-Palestine rallies, and made its way onto college campuses. A noticeable rise in anti-Jewish activities in U.S. colleges and universities has been reported, alongside tales of Jewish students confronting physical assault, anti-Semitic slurs, vandalized synagogues, and desecrated religious symbols.
At Cooper Union, a heated protest by pro-Palestinian and pro-Hamas groups led to Jewish students being forcibly barricaded within the university's library amid threatening gestures and aggressive pounding on the library's doors by the protesters. Over at George Washington University, a pro-Palestinian student group projected anti-Israel messages onto a campus building, sparking a notable controversy. Meanwhile, Harvard witnessed escalating tensions between students and staff following a coalition of student groups writing an open letter that blamed Israel for the attack by Hamas. These incidents epitomize a concerning trend of anti-Semitic escalation and heightened tensions within the academic realm, reflecting the broader geopolitical discord.
The ascent of anti-Semitism on college campuses is a grim reality, leaving numerous Jewish students and staff in fear. New York's Governor Kathy Hochul tackled the issue, articulating, "You cannot ignore these threats and hope they go away," accentuating the necessity for dialogue and empathy for the affected students.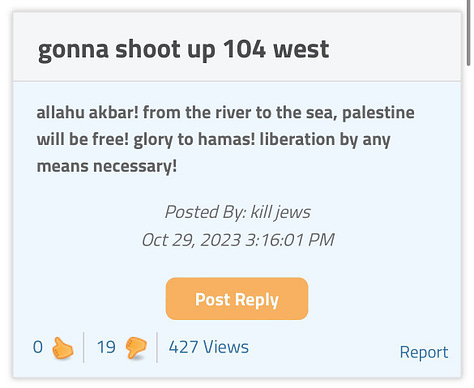 A Disturbing Case at Cornell University
There have been many examples of anti-Semitism in universities across the U.S., but the most alarming was at Cornell University. The community at Cornell was rocked to its very core when a slew of violent anti-Semitic messages emerged on an online message board. These messages exceeded mere words and detailed plans for violence targeting the Jewish community on campus. The statements made were explicit calls for the deaths of Jewish individuals and a specific threat to shoot up a nearby dining room situated next to a Jewish living facility.
The individual responsible for these messages was later revealed to be Patrick Dai, a 21-year-old student at Cornell. The gravity of his threats beckoned swift action from federal law enforcement, culminating in Dai's arrest. Dai made his maiden appearance in federal court, where he relinquished his right to a bail hearing, leading to the judge's directive for his remand in Broome County jail, where he remained post-arrest.
Cornell President Martha Pollack resolutely proclaimed, "We will not tolerate anti-Semitism on this campus," articulating a zero-tolerance stance towards hate crimes or threats of any kind.
Moreover, the campus sidewalks were defaced with anti-Israel messages, and a Cornell professor encountered backlash for characterizing the Hamas attacks as "exhilarating" and "energizing," revealing the biases nestled even within the academic community.
Biden Administration Responses and Criticisms
In the midst of this turmoil, the Biden administration announced a national strategy to counter Islamophobia. However, this announcement was met with criticism as many believe it eclipsed the pressing issue of rising anti-Semitic incidents. The strategy was announced on the same day a video surfaced showcasing a Hamas spokesman expressing relentless hostility towards Israel, propelling critics to argue that it reflected a lack of sensitivity or awareness on the administration's part.
Polls Show Divided American Opinions on Hamas Actions
Furthermore, recent polls unveil alarming levels of support for Hamas' actions among diverse demographic segments in the US. A Harvard poll disclosed that 36% of liberals and 15% of conservatives validated the Hamas attack on civilians. Support for Palestinians and Hamas seemed more robust in specific groups, including Muslim-Americans, with a Cygnal poll indicating a significant portion deeming the terror attacks on October 7 as "justified." Despite a sizeable portion of voters condemning such violent actions, 51% of 18- to 24-year-olds and nearly half of 25- to 34-year-olds believed the grievances of Palestinians could justify Hamas' actions.
The Role of Social Media
It's hardly surprising that younger Americans might harbor such beliefs, given their reliance on the digital realm, predominantly social media platforms like TikTok, for news and information on global affairs. This trend has become glaringly evident during the Israel-Hamas conflict, as TikTok got inundated with a cascade of anti-Israel and pro-Hamas sentiments. Through its algorithm and interactive features, the platform facilitates the brisk dissemination and amplification of specific narratives, often with a biased inclination.
An examination of TikTok's mechanics unveils a disconcerting reality that high school and college students are being exposed to misinformation, which impacts their understanding and stance on the Israel-Hamas conflict. The platform's algorithm tends to serve young users with skewed information, nurturing a narrative that predominantly favors Palestine and occasionally supports Hamas.
The discernible pro-Palestine bias on TikTok is apparent as hashtags related to Palestine receive more views compared to those related to Israel. In numerous instances, the platform has evolved into a conduit for pro-Hamas content, raising concerns about Hamas-controlled bot farms influencing TikTok's narrative and propagating Hamas propaganda.
The burgeoning pro-Palestine and pro-Hamas sentiment among young people could be attributed to an array of factors. The portrayal of Israel as an aggressor in a simplified narrative on platforms like TikTok, coupled with the youth's natural inclination to support perceived underdogs or oppressed groups, contributes to this trend. Moreover, the absence of comprehensive context and nuanced discussions on these platforms further polarizes opinions, leading to a distorted understanding of complex geopolitical issues.
Hamas's Online Propaganda Campaign Unveiled
This is compounded as Hamas is actively engaged in an online propaganda campaign. According to the Jerusalem Post, Hamas has been operating a sophisticated propaganda operation. Approximately sixty individuals, claiming to be independent journalists and having a combined social media following of over 100 million, have been systematically spreading false information since the conflict began. They have distorted casualty numbers and events, making baseless claims such as an attack on Al-Ahli Hospital and the use of Al-Shifa Hospital as a command center, despite the IDF's confirmation otherwise. The revelation of these activities highlights the extensive reach and influence of Hamas's propaganda efforts.
This narrative, fueled by a mix of social media, misinformation, ignorance, or misguided ideological allegiances, creates fertile ground for anti-Semitic sentiment to thrive, posing a significant societal and moral challenge that requires urgent attention.
In case you missed it:
It's Meseidy is a reader-supported publication. To receive new posts and support my work, consider becoming a free or paid subscriber.
---
News of the Week
From Hamas to the Border: A Senate Reckoning on Security
FBI Director Christopher Wray and Homeland Security Secretary Alejandro Mayorkas recently testified before the Senate Homeland Security Committee to discuss the issues of border security and emerging terror threats from the Middle East. Wray highlighted the seriousness of the situation, stating that, "The actions of Hamas and its allies will serve as an inspiration the likes of which we haven't seen since ISIS launched its so-called caliphate several years ago."​ This somber forecast follows Hamas' attacks on Israel, which have resonated with extremist groups and sparked calls for attacks against Americans and the West.
Complicating the security challenges is the continuous influx of migrants at the southern border. The numbers are alarming, with Border Patrol encounters reaching a peak of 2,045,838 in fiscal year 2023, according to federal data. The issue of "gotaways," those who manage to elude capture, adds to the urgency, with nearly 1.6 million instances recorded from January 2021 through April 2023.
The situation at the southern border is further strained by a large group of around 5,000 migrants moving north from Mexico's southern border towards the U.S. This group comprises people from Cuba, El Salvador, Guatemala, Haiti, Honduras, and Venezuela. They are undertaking this journey due to frustration with lengthy visa waiting times in Tapachula, a city near the Guatemalan border and Mexico's primary migrant processing center. Facing a backlog in Mexico's immigration system, these migrants, tired of waiting, have decided to march toward the U.S.
Amidst the discussions, Mayorkas acknowledged a troubling increase in antisemitic incidents, mainly targeting Jewish students in the U.S., following the Israeli-Palestinian conflict in Gaza. He pointed out the international conflicts' spillover into domestic realms of hatred and intolerance. The Senate hearing also became tense when Republican Senator Josh Hawley questioned Mayorkas about the employment status of a U.S. asylum officer who reportedly made anti-Israel social media posts, had been placed on leave but not fired, labeling the employee's actions as "celebrating genocide."
Mayorkas and Wray face intense scrutiny as their testimonies reveal the weakness at the southern border intertwined with the threats of global terrorism. The discussions in the Senate mirror the broader national discourse.
The Biden Family Checks: A Catalyst for Impeachment Deliberations?
The House Oversight Committee recently disclosed checks received by President Joe Biden from his brother, Jim Biden. This disclosure has reignited scrutiny over the business dealings of the Biden family. One check, dated September 3, 2017, was issued to Joe Biden for $40,000 by Sara Biden, labeled as a "loan repayment." On March 1, 2018, Americore wired $200,000 to James and Sara Biden's personal account, and James Biden subsequently wrote a $200,000 check to Joe Biden on the same day. The committee has raised concerns that these transactions may involve funds from foreign entities being channeled directly to Joe Biden, with allegations linking one of the checks to "laundered" funds from CEFC China Energy, a Chinese government-linked entity.
The first transaction, involving the $40,000 check issued to Joe Biden on September 3, 2017, labeled as a "loan repayment," and James Biden subsequently wrote a check of the same amount to Joe Biden, has received significant attention from the House Oversight Committee. There have been allegations suggesting that these funds were "laundered" from CEFC China Energy, raising concerns about possible indirect financial channels from foreign entities to Joe Biden.
Another financial transaction came to light on March 1, 2018, involving Americore. On that day, Americore transferred $200,000 to James and Sara Biden's personal account, and James Biden subsequently wrote a $200,000 check to Joe Biden. The revelation has dented the President's longstanding assertion of being walled off from the family's business dealings, bringing to light a direct financial linkage between James and Sara Biden to Joe Biden.​​
These financial incidents are now under scrutiny, raising questions about the President's financial integrity, particularly regarding his dealings with foreign entities. The spotlight on these transactions has sparked discussions, debates, and impending decisions that could significantly impact the Presidency, especially given the increasing talks of impeachment.
Following these revelations, Speaker of the House Mike Johnson has hinted at possibly initiating impeachment proceedings against President Joe Biden. While no specific timeline has been provided, Speaker Johnson indicated that the House is getting closer to a "point of decision" regarding impeachment. This narrative intensifies the scrutiny of President Biden's connections to his family's business dealings, introducing a phase of uncertainty in the political landscape where the President's ability to distance himself from these transactions could shape the unfolding narrative significantly.
Veto on the Horizon? Biden, Senate, and House Lock Horns Over Funding Packages
The dueling funding packages between the Senate and the House are stirring up notable tensions. The Senate, led by Democrats, recently passed its first set of government funding measures for fiscal 2024, which brought them head-to-head with House Republicans who are pushing for more significant spending cuts. The Democrats' omnibus bill encompasses a range of issues, including aid for Ukraine and expanding abortion access within federal agencies. On the other hand, the House, under a Republican majority, proposed 12 separate funding packages to allow for distinct voting on various issues like government funding, Ukrainian aid, and border security.
Moreover, a significant part of this discord revolves around the allocation of funds to Israel. House Republicans advanced a stand-alone Israel aid package, proposing nearly $14.5 billion in military aid. This package plans to fund the aid by cutting the IRS funding from Biden's Inflation Reduction Act. However, this proposal met resistance not only from the Democratic-led Senate but also from President Biden, who stated he would veto the House's Israel aid package. Critics from the Left argue that this move by the Right ties a partisan agenda to Israeli aid, sidelining other crucial international concerns like Ukraine and Taiwan. In contrast, the Right emphasizes that aid to Israel should not be linked to Ukrainian aid and deems the cut in IRS funding as a fiscally responsible step.
This discord reflects a broader ideological divide, with House Republicans being accused of incorporating their conservative policy priorities into their funding packages. This has triggered a strong reaction from Democrats, who consider such actions extreme.
In this battle of fiscal priorities and international aid, both chambers are demonstrating their positions on how government funds should be allocated. This situation highlights the deeper ideological divide on Capitol Hill regarding the nation's budget and commitments to foreign aid.

From Fraud to Ballot Fights: Trump's Legal Sagas Continue
The courtroom has been a frequent setting for Donald Trump and his family lately. In New York City, a civil fraud trial is ongoing where Trump's sons, Donald Trump Jr. and Eric Trump, have recently testified. Both have denied any wrongdoing, with differing accounts regarding their involvement with certain financial documents under scrutiny. Donald Trump Jr. is embroiled in testimony over the family company's financial statements that a judge has ruled were misleading, testifying for a second day about these matters. On the other hand, Eric Trump has sworn that he had no involvement with the financial statements in question. When presented with a decade-old email requesting his review of financial statements, he claimed no recollection of the email or the statements.
Meanwhile, the former President's daughter, Ivanka Trump, is also scheduled to testify, but her appearance has been delayed to November 8 to allow sufficient time for questioning. This delay follows the schedule where Donald Trump himself is expected to testify, although the exact date of his testimony still needs to be determined.
Transitioning over to Colorado, a significant lawsuit is underway attempting to bar Trump from the 2024 presidential ballot in the state. This case hinges on a post-Civil War amendment clause concerning anyone who's sworn an oath to uphold the U.S. Constitution, focusing on whether Trump's actions on January 6, 2021, fall under the umbrella of "insurrection" as per the 14th Amendment. The Colorado judge overseeing this lawsuit has not only rejected Trump's attempt to dismiss the case but also issued a protective order to ensure the safety of everyone involved due to the case's groundbreaking nature.
The situation in Colorado is part of a broader legal struggle that Trump is facing across the nation. The outcome of these cases, particularly the NYC fraud trial and the Colorado lawsuit, could potentially have significant implications not only for Trump's political future but also for the legal and political landscape of the country.
On a separate legal front, Trump faces a criminal indictment in Georgia, accused of attempting to subvert the 2020 election results in the state. He has pleaded not guilty to these charges, signaling his intent to fight them vehemently. The case, initiated by Fulton County District Attorney Fani Willis, implicates Trump and 18 others in a purported conspiracy to overturn the election outcome in Georgia. Willis has proposed a trial date of March 4, 2024, before Super Tuesday.
Parallel to these developments, a federal case is unfolding under the purview of Special Counsel Jack Smith. The focal point is Trump's alleged attempts to overturn his 2020 election defeat. The dynamics of this case have seen Special Counsel Jack Smith urging a federal judge to reinstate a gag order on Trump, aiming to limit the former President's remarks concerning the trial. U.S. District Judge Aileen Cannon, who oversees this case, is mulling over the timeline, with a trial possibly commencing on May 20, 2024. The legal maneuvers from Trump's camp, perceived as delay tactics, have vexed the prosecutors on Smith's team, who caution that these actions could be attempts to manipulate the court proceedings.
Amidst this legal whirlwind, Trump's political momentum remains unfazed. As the Republican frontrunner, recent averages from Real Clear Politics even tip the scales in Trump's favor against Biden in a general matchup by +.5 points. These legal skirmishes, while touted as severe, could be perceived as political ploys to derail Trump's 2024 aspirations. Yet, electoral sentiments seem to tread a path undeterred by these courtroom dramas, hinting at the resilience of the ballot box against the tempest of legal battles.
An Update on the Israel-Hamas Conflict
This update provides information on significant events in the diplomatic, military, and humanitarian aspects of the ongoing confrontation. These developments include the opening of the Rafah crossing for humanitarian aid and verbal exchanges involving regional actors like Hezbollah. These events contribute to the overall narrative of the conflict, highlighting the intricate geopolitical and humanitarian dynamics in the Middle East crisis.
Humanitarian Outreach: Rafah Crossing Opens
The recent opening of the Rafah crossing from Gaza into Egypt is seen as a positive development amid the ongoing Israel-Hamas conflict. Collaborative negotiations involving Egypt, Israel, and Qatar have facilitated the safe exit of approximately 800 individuals from Gaza, including around 400 Americans, over two days. This movement has provided not only a safe haven for those escaping the escalating violence but also established an important channel for humanitarian aid. The delivery of twenty trucks carrying essential supplies such as food, medicine, and medical equipment from Egypt marked the first shipment of aid since the Israeli bombardment campaign began two weeks ago. This development highlights the crucial role of humanitarian corridors and international cooperation in alleviating civilian suffering in this turbulent region.
Israeli Military Maneuvers: Advancing into Gaza City
The Israel Defense Forces (IDF) has been carrying out a series of military advancements in Gaza, aiming to neutralize the threats posed by Hamas militants. On the evening of 27 October 2023, a significant ground incursion spearheaded by the IDF was initiated within the Gaza Strip. This maneuver, although not officially termed an invasion by Israel, is interpreted by several sources as a classic invasion, marking a substantial escalation in the conflict.
One of the pivotal facets of this advancement was the deployment of Israeli tanks aiming to penetrate deeper into Gaza City. This maneuver was met with resistance from Hamas, who claimed to have thwarted the advancement by destroying several Israeli tanks. The action and reaction between the IDF and Hamas terrorists elevated the confrontation, revealing the escalating hostilities that characterize the ongoing conflict.
Following the ground incursion, Israeli forces declared an expansion of their ground activities in northern Gaza on 28 October 2023. This was amidst what was described as the largest bombardment of Israeli attacks since the onset of the conflict, reflecting the intensifying military engagements between the two sides.
Earlier, on 23 October, a significant engagement unfolded when Hamas confronted an Israeli force that had infiltrated the Gaza Strip. The confrontation concluded with Hamas fighters returning to their base after destroying some Israeli military equipment.
Diplomatic Endeavours: Biden's Call and Netanyahu's Stance
The international community has been closely monitoring the escalating violence between Israel and Hamas, with the United States playing a pivotal role. A notable development came when President Joe Biden, during a 2024 reelection campaign speech in Minneapolis, responded to a protestor's call for a ceasefire by suggesting a humanitarian "pause" in the conflict to facilitate the evacuation of "prisoners." This marked a subtle shift from earlier stances, illustrating a nuanced approach toward addressing the crisis.
However, the call for a humanitarian pause met with a firm rebuttal from Israeli Prime Minister Benjamin Netanyahu. He asserted that there would be no pause in military operations unless Hamas released all hostages, underlining Israel's stringent security concerns and the conditions it deems necessary for any form of de-escalation.
Hezbollah's Verbal Volley: Nasrallah Points Fingers
Amid the Israel-Hamas conflict, Hezbollah Chief Hassan Nasrallah delivered a speech that promoted hostility. Nasrallah oversimplified the complex geopolitical dynamics by solely blaming the United States for the ongoing clashes in Gaza. He demanded that the U.S. immediately stop its "aggression" in Gaza, showing no regard for the terror campaigns conducted by Hamas, which have continually destabilized the region. Nasrallah's words contained misguided accusations and a veiled threat of expanding the conflict beyond Gaza.
Nasrallah's rhetoric didn't stop at words alone. The Hezbollah Chief warned that his Iran-backed group was prepared to confront U.S. warships in the Mediterranean. This bold stance demonstrates Hezbollah's commitment to an aggressive agenda, further endangering the fragile peace in the Middle East. The direct threat against the U.S. and its allies reveals a dangerous intent that could potentially ignite a broader conflict involving various regional players and create an explosive situation.
Furthermore, Nasrallah's praise for the October 7 attack as a "100% Palestinian" initiative and his celebration of a "new historic phase" initiated by the Hamas assault endorse acts of terror. His rhetoric seeks to sow discontent in the region, painting a picture of a native uprising against Israeli forces while conveniently ignoring the terrorism-driven agenda of Hamas.
The Hezbollah leader casually mentioned the possibility of an escalation on the Lebanese front, reminding us of the organization's dangerous capabilities. Since October 8, Hezbollah has engaged in skirmishes with Israeli forces at the Lebanese-Israeli border, a situation Nasrallah hinted could escalate into a full-scale war. His statement—"It can happen, and the enemy must take every account of it,"—is a concerning warning about the ambitions harbored by Hezbollah and its allied terrorist groups to broaden the conflict.
Nasrallah's alarming messages in his speech underscore the threat posed by Hezbollah and other terrorist organizations in the region. His words, combined with the ongoing military confrontations, serve as warning signs of a potential escalation that could extend well beyond the Middle East. It's a stark reminder of the imminent danger that groups like Hezbollah pose to Israel and the global community, emphasizing the need for a unified stance against the terrorism-driven agendas of such entities.